I have been singing this sites praises all summer long!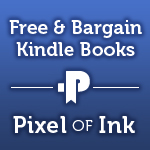 Pixel of Ink
is a website of free or bargain books for the kindle. All you need to do is sign up for their email, like them on
facebook
, or visit their page to find what great bargains they have. Everyday they have at least 3-5 books that you can download for FREE! You have to grab them fast to get the free ones, but even if not free there are some great bargain prices that are offered. I love seeing what the daily deal is!
Here is the part that I love..... They have a
Young Adult Section
(
and a facebook page
) and a
Children's Section!
On the
Pixel of Ink Young Edition
it is also sectioned out by ages.
As a teacher I am always looking for books for my classroom. Using amazon you can read on your kindle, the kindle app on another mobile device, or even your computer. I am also always looking for books while I am on a budget. Since learning about pixel of ink my classroom library has grown by leaps and bounds! My personal reading has also gone up.
Today I finished my first day of my 11th year of teaching, so I am going to finish shutting down my computer and head to my next meeting.